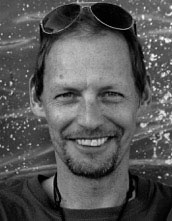 Fabian Ritter, Marine biologist and expert on whales and dolphins
Fabian Ritter has been a member of the Scientific Committee of the International Whaling Commission (IWC) for many years. His fascination for whales and dolphins made him to a professional biologist in this field. After participating in several European dolphin research projects, he co-founded the association M.E.E.R., where he is still chairman and scientific director. Another of his specialties is the photography of whales, dolphins and other marine animals.
In addition to publishing numerous scientific papers, Ritter is the author of four books, lectures regularly, and has been successfully guiding behavioral biology courses on La Gomera for many years and accompanying expedition cruises to numerous areas of the world.
His last publication is the picture and reading book: "The Island of Dolphin Encounters off La Gomera" in ClarityPublications.